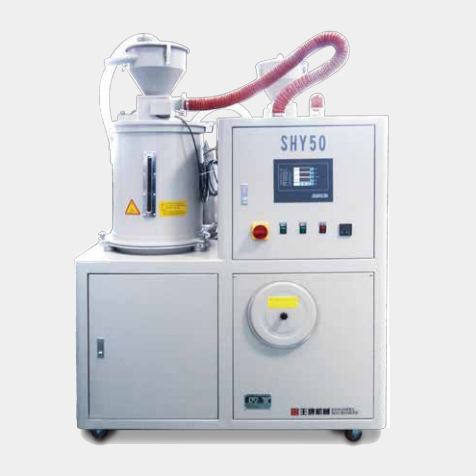 Dehumidifying, drying and feeding machine
Features:
1. The drying barrel is made of SUS304 stainless steel, which is corrosion-resistant and the plastic material will not be polluted.
2. Compact product design, convenient disassembly of parts.
3. The design and visual control system for easy cleaning and easy cleaning ensure that the SHY type combination function works safely and effectively.
4. The best insulation effect. The material cylinder adopts the insulation design to ensure the small amount of heat loss and make the plastic particles uniformly heated.
5. Circulating air filter. Under the circulating air mode, the waste gas discharged by the SHY dryer goes directly into the drying fan after the drying secondary material, pulverizer or new material containing dust or glass fiber is filtered through the air filter, and the use of the air filter can ensure that the dry mixed fan is free from dust pollution.
6. Using Taiwan original imported microcomputer board (LED display), easy to operate, stable performance. It has timing function (one-day type and one-week type), which can start up and shut down regularly. The operating cycle time and operating temperature can be set and monitored by the display screen of the control device.
7. The drying temperature controller adopts PID control (digital display) for more intuitive operation.
8. It has perfect security protection and exception only system. For example, overload protection of dehumidifier, overload protection function of feeding air pump and overtemperature protection function; Reverse phase alarm, material shortage alarm, overtemperature alarm, insufficient energy alarm, compressed air pressure alarm, cooling water pressure alarm, etc.
Brief introduction:
1. Set dehumidification drying and feeding in one. Not only can dehumidify and dry all kinds of plastic raw materials, but also can feed to injection molding machine and other molding host, to the greatest extent to solve the problem caused by plastic particles water absorption or water deposition.
2. Drying mode of circulating wind. According to the quality of raw materials, different varieties or the requirements of products, the SHY type dry blaster can choose to adjust the cycle switching time of dehumidifying molecular sieve tube, regenerative heating temperature and drying temperature of materials.
3. The cyclic wind mode operates in a closed air loop. After the particles are dried together, the air returns directly to the fan. オ only when feeding insufficient wind, outside air is inhaled to supplement the air volume, the maximum energy saving.
4.SHY type combined machine is operated by a control device with keys and LED display. The cycle switching time and regenerative heating temperature of dehumidifying zeolite can be adjusted. Separate configuration heating drying, feeding and other single control functions for easy operation.