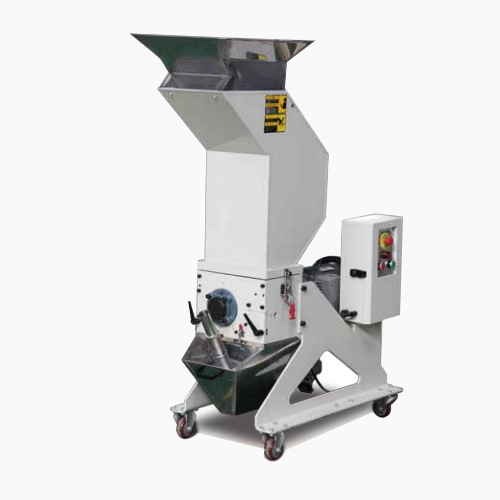 Trump medium speed crusher
Features:
1 superior progressive cutting integrated grasping tool design, moving the knife gap automatically adjusted to the position, eliminating the time of setting back adjustment after grinding.
2. The reducer with superior hard tooth surface, the rotation speed of 150rpm and the design of sharp Angle cutter can make the whole machine run more smoothly and smoothly.
3. Excellent Angle hopper design, increase the area of receiving port, stainless steel material, double layer sound insulation production, effectively reduce operating noise.
4. Superior blanking box design, tightly enveloping the whole crushing box body, no leakage of material, you can choose the blanking box of suction or blowing device, superior cutting Angle design, can make cutting more labor saving, cutting particles more uniform, efficient reduce dust generation, enhance the recycling application value.
5. Superior crushing box design, simple and convenient disassembly, time-saving and labor-saving maintenance, superior safe operation design, in line with European safety standards.
Brief introduction:
1. The rotating shaft of the trump medium speed crusher is equipped with superior tool holder design, which is coordinated with the careful structural design of the moving knife to ensure that the cutting Angle and the spacing of the fixed knife remain the same after the grinding and reinstallation of the moving knife, which saves the complicated process of adjusting the tool clearance and does not need to spend the time to stop working; The favored knife is designed for the favored four-edged blade, which can be used repeatedly for four times for favorable long-term running.
The front plate of the crusher separates the bearing seat and the sieve seat. The sieve seat is fixed with strong clamps. The sieve seat can be removed easily and quickly to facilitate material cleaning, maintenance and maintenance.
3. The axis diameter of the rotating shaft of the trump medium speed crusher is designed according to the maximum rotation width, and both sides are supported by the bearing to make the crushing object more stable and smooth; The stepped knife rest design enhances the cutting torque, can carry on the cutting effectively continuously, can adapt all kinds of material plastics to break and recycle more.